Do you know how much media young people consume?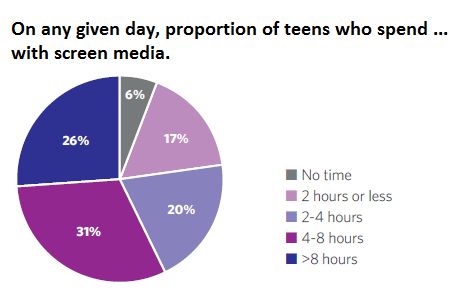 Source: Common Sense Census: Media Use by Tweens and Teens
That's a LOT of media exposure. And it comes in many different forms. . .social media, music, computer games, video games, mobile apps, TV, movies and videos to name just a few. Electronic media permeates the cultural environment of young people and often contains tobacco imagery that glamorizes and normalizes tobacco use.
Consider this. . .
Of the 1,230 top-grossing movies containing tobacco imagery released between 2002 and 2016, more than half (661) were youth-rated (G/PG/PG-13).
The laws about tobacco advertising don't extend to electronic media, so young people are regularly exposed to tobacco ads and imagery placing tobacco use in a positive light.
Tobacco use regularly appears in video games rated "Teen." For example, in the best-selling game, Starcraft II: Wings of Liberty which is rated "Teen," three of the thirteen soldier avatars smoke cigarettes.
Learn more
Tell the Motion Picture Association of America (MPAA) to place an "R" rating on movies that glamorize or normalize tobacco use. Learn more at SmokeFreeMovies.
Know the Facts about tobacco use in media.